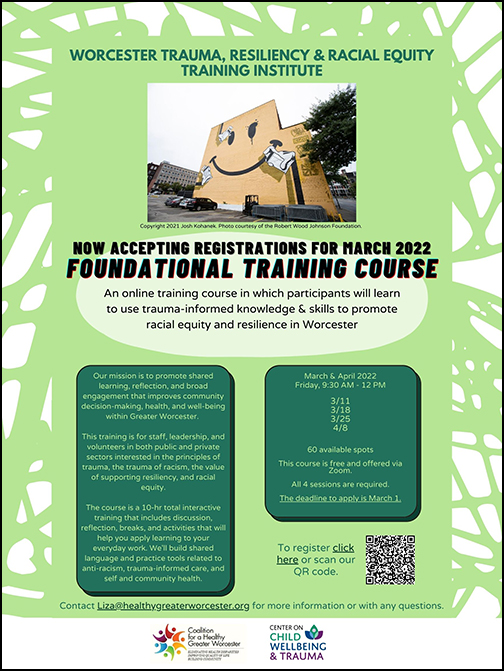 In partnership with the Center on Child Wellbeing & Trauma, the Worcester Trauma, Resiliency & Racial Equity Training Institute is offering a free, virtual Foundational Training Course. The four-session series starts March 11, 2022. The training is 10 hours total with up to 60 available spots.
This training is for staff, leadership, and volunteers in both public and private sectors interested in the principles of trauma, the trauma of racism, the value of supporting resiliency, and racial equity. The program includes discussion, reflection, breaks, and activities that will help participants apply learning to their everyday work.
Session Dates:
This course will take place via Zoom, from 9:30 AM – 12:00 PM on:
Friday, March 11th
Friday, March 18th
Friday, March 25th
Friday, April 8th
NOTE:  ATTENDANCE IS REQUIRED FOR ALL 4 SESSIONS!
The core learning goals for this interactive training:
Define key concepts and terms as they relate to our work (for example: identity, health equity, intersectionality).
Describe the relationship between structural oppression and health and safety outcomes for those we serve, with examples from Worcester and beyond.
Unpack the legacy of historical racism among communities and its impact today, including the role of inter-generational trauma and resilience.
Identify opportunities for innovation and to improve skills using practical tools.
Identify areas for ongoing quality improvement related to racial and gender equity, within Worcester and beyond.
There will be time for discussion, reflection, and other activities to apply the learning to our everyday work.
If you have any questions or need additional information, please contact Liza@healthygreaterworcester.org