Vandolyn Esparza, MEd, BAS
Assessment Coach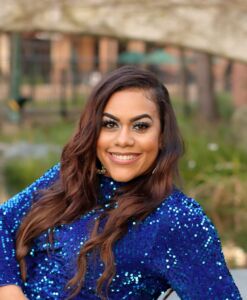 Vandolyn is an enthusiastic, innovative, and solution-focused professional who has spent the past 15 years of her career in the education and nonprofit sectors serving children and families from marginalized communities across the Houston, TX metro area. As an assessment coach, she uses her varied professional and personal experiences to facilitate relationships and trauma-informed training.
Before coming to the Center, Vandolyn most recently worked as an educational diagnostician for a school district. She has excelled in several roles which promoted social, emotional, and educational equity, including serving as a public school teacher, school administrator, and project manager for collective impact programs.
Shifting systems that lack equity and improving processes that support the safety and social-emotional well-being of children and families is a particular passion for Vandolyn. She believes that we can only change the trajectory of a child's life by reducing toxic stress, teaching resilience, and providing equitable access to resources and educational opportunities.
Vandolyn is a passionate public speaker, conference presenter, and advocate for people with disabilities. She received a master's degree of Special Education-Diagnostics from Lamar University and a master's degree in Education Administration from Texas Southern University. She also earned a Bachelor of Applied Science degree from Northwestern State University and is also a Six Sigma Certified Scrum Master and Google Certified Data Analyst.