Juan Rojas, BCBA
Assessment Coach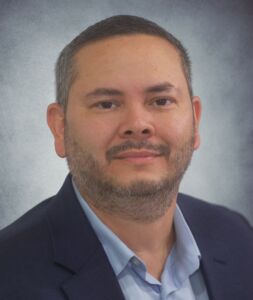 Juan has spent the last 11 years providing behavior analytic services to youth with and without cognitive and/or behavioral disabilities from ages two to 22 across home, school, and clinical settings. As an Assessment Coach at the Center for Child Wellbeing and Trauma, he utilizes his expertise in the science of human behavior to promote sustainable systems change in alignment with the values and goals of trauma-informed and responsive practices.
Before coming to the center, Juan most recently worked as the Operations Manager and Lead Behavior Analyst for a multi-state program that provided trauma-informed mental and behavioral support to school-aged youth via an integrated model combining Applied Behavior Analysis (ABA) and mental health disciplines. He worked to mentor behavior analysts new to trauma-informed ABA, leading the development and implementation of cross-discipline clinical supports and developing and maintaining collaborative relationships with school district and community leaders. Now at the Center for Child Wellbeing and Trauma, Juan utilizes his knowledge of ABA, Organizational Behavior Management, Acceptance and Commitment Therapy/Training, and Restorative Justice to promote positive behavior change in individuals and organizations.
Juan was born in Nicaragua and immigrated to the United States when he was five years old. After joining the US Army as a combat medic and deploying in support of Operation Iraqi Freedom, Juan returned to his hometown of Miami, Florida, where he received his bachelor's degree in psychology from Florida International University and a master's degree in Professional Behavior Analysis from Florida Institute of Technology. At home, Juan enjoys spending time with his wife, two young energetic girls, and three dogs.
"What are your responsibilities?"
My role as an Assessment Coach is to support child-serving organizations in Massachusetts in obtaining the tools needed to become more trauma-informed and responsive (TIR) and to be better positioned to provide support to youth and their families.
"Which positive childhood experiences (PCEs) building block do you feel aligns the most with your work?"
I find it difficult to pick just one, as they are all important and interconnected. But I would say that Relationships and Environment would be the building block that aligns the most with my work. As a behavior analyst, I focus on behavior in the context in which it occurs and the environment's influence on behavior. I then seek to influence changes to the environment, which in turn may influence positive behavior change in individuals. Our behavior influences the behavior of everyone around us and vice versa. Therefore, people are an important element of every individual's environment. The relationships we build with one another are incredibly influential in how we see others, how we see ourselves, and what we do.