Bri Twombly, MSW, LICSW, IMH-E®(III)
Assessment Coach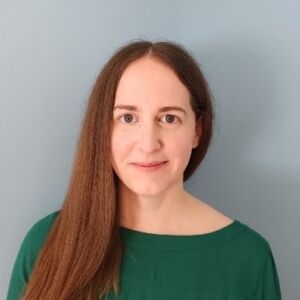 Bri has spent her career partnering with children and families impacted by trauma while also working to rebuild the systems and policies that lead to trauma and the need to be resilient. As an assessment coach, she uses a relationship-based approach to engage organizations in understanding the impact of trauma on individuals and organizations and to create sustainable trauma-responsive systems change.
Before coming to the center, Bri led an organizational initiative to become more trauma-responsive at a non-profit human services organization in metro Detroit. In her role, Bri facilitated training and coaching, developed policy, and supported embedding trauma-responsive practices into organizational programming and the employee experience. She participated in cross-sector trauma-responsive workgroups and partnered with schools, hospitals, and community organizations to facilitate trauma-responsive training and traumatic stress debrief sessions.
Prior to providing organizational support, Bri worked in behavioral health, partnering with children ages 0-6 and their families. As part of her work, she provided infant and early childhood mental health consultation and was a teacher in a therapeutic preschool program. Over her career, she completed training in Trauma-Focused Cognitive Behavioral Therapy (TF-CBT) and Child-Parent Psychotherapy (CPP) and became a certified ACE-Interface (Adverse Childhood Experiences) and HOPE (Healthy Outcomes from Positive Experiences) facilitator.
Bri earned a master's degree in clinical social work from St. Catherine University and the University of St. Thomas and a bachelor's degree in history from the College of the Holy Cross. She is endorsed by the Michigan Association of Infant Mental Health as an Infant Mental Health Specialist. When she's not spending time with her family, Bri enjoys reading, photography, and skiing.
"What are your responsibilities?"
At the center, I facilitate training and collaborate with organizations to implement trauma-responsive practices and programming that build on the strengths of their organization, community, and the children and families they partner with.
"Which positive childhood experiences (PCEs) building block do you feel aligns the most with your work?"
For me, relationships are centered in my work. Positive relationships help us to feel safe, be our authentic selves, and grow and heal. When children have at least one nurturing, supportive relationship, they often feel safe enough to explore and learn helpful lifelong skills for expressing their emotions and being in relationships with others.
"What is one way you promote resilience in your life or the lives around you?"
One way I promote resilience is by intentionally creating a strong support network. Having spaces where I feel heard and seen helps me to feel emotionally regulated and connected. These experiences help me to create spaces where people feel heard and seen, so they can feel more regulated and connected to the people in their lives.